I'm returning to my blog after a year's hiatus as I've been studying for a Masters degree in Garden and Landscape History.  The garden has been a bit neglected too so I feel very much like a prodigal gardener.  It's been an extended tea break.
Back to my gardening I return and hopefully back to more regular blogging.  I can only be prodigal once and even my son's friends call me by my blogger's name – "what's up Tea Break?" they say.  Here's a rundown of events, not all joyous, to have befallen the garden this year.
A devastated vegetable patch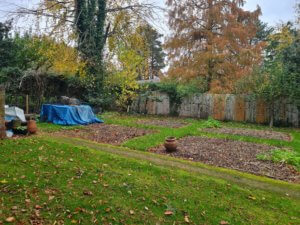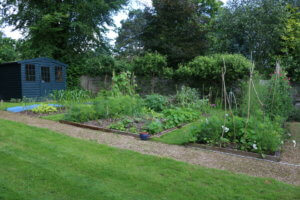 This was once my pride and joy, a productive and attractive area with lots to keep me occupied and an attractive shed to boot.  Last February, storm Eunice blew in and a neighbour's tree fell across my patch, squishing the shed which fell apart like matchsticks, trapping my tools inside.  It took a while to clear the tree safely as it was balanced precariously on the fence.  The heavy boots of the tree surgeons trampled every bed and the dragged branches broke the boughs of my step-over apples.
Indecision over a shed replacement has caused a hiatus as I consider whether I should take the opportunity to remodel the entire area.  The beds were maybe always a little too large – should I have smaller ones? Edging and mowing the grass between the beds was a fiddly chore – should they be raised beds and should I choose a new path material?  How much would this all cost and is it worth it for a vegetable area?  The beds are surely fine as they are and ready for planting next year with or without a shed but do I want it to be attractive too?  Is a productive and attractive area part of the reason I loved it so much in the first place?
You can probably tell from the lack of action here that no decisions have been made.  The right decision will come to me in time but should I buy veggie seeds now or not?
Happy memories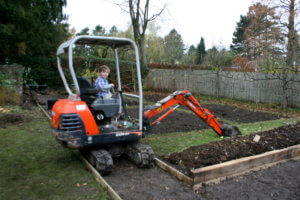 The veg beds were originally edged in wood.  These had rotted and were easily destroyed by the clear-up operation.  It's only by referring back to old photos that I can see how smart it once was and I stumbled across this photo of my little boy enjoying the digger used to help landscape the area.  He's now a strapping 15-year-old more interested in playing rugby than playing on a digger but he also enjoyed helping me there once – with a particular penchant for growing pumpkins and squash.  My other companion in the veg bed was always my labrador, Camber.  He died last November of cancer aged just nine.  He was a great dog, rarely a garden pest, and I miss taking a turn of the garden and with him posing in my photos.  Here are a few photobomb shots of a superb companion.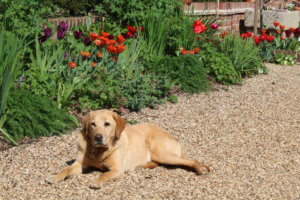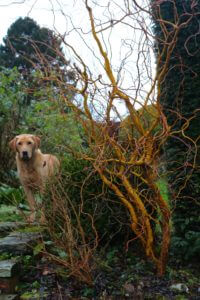 A glorious tree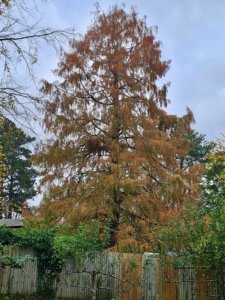 As the tree fell, it also took out another screening tree in a second neighbour's garden.  This opened up a better view of this splendid tree which I am told is a Metasequoia (or Dawn Redwood).  Its autumnal burnt orange colouring is shown at its best against a blue sky but even on a gloomy day it's a fine sight.  One of the benefits of studying garden history is the skills I learnt in historical research.  Using old maps, photographs and leases I have discovered how the plots on my road were developed over time and so I know that this tree used to be in a larger garden of my house.   It was probably planted by the family who built my house back in 1914 so it's lovely that this tree still has an impact here.
In the greenhouse
The vegetable patch is tucked around a corner and so suffers from being out of sight and out of mind.  By contrast the greenhouse is in full view of the kitchen.  It's a short hop skip and a jump from the back door so has been less affected by a year with my nose in a book.  Every time I needed a break or to stretch a bit, the greenhouse was there for me.  It received constant short bursts of attention.  I'll admit that the glass needs a bit of a clean, but otherwise, it's looking great and is full of all the tender plants needing a little winter protection, including the two stunners featured below.
Brugmansia sanguinea
I grow a few Brugmansia (or Angel's Trumpets) and a large one with a good number of white flowers can be seen in the greenhouse view above.  The sanguinea variety is different as it is endemic to the Andes, usually growing at 2000 to 3000 metres above sea level.  It, therefore, prefers cooler nights and mild but not hot days.  It is no wonder therefore that it has chosen to bloom now; the hot summer temperatures will have inhibited flowering.  It's been outside in a shady spot over the summer and I have only just moved it to the greenhouse, where a tiny temperature boost has coaxed the flowers from the pods.  The flowers are smaller than the usual Brugmansia varieties and are unscented but have a beautiful shape, the cardinal red trumpets ribbed in yellow.
Tibouchina urvilleana (Glory Bush)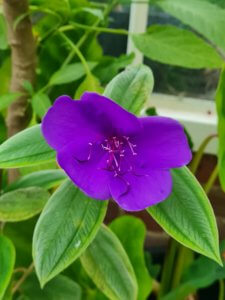 This was a recent gift from a fellow member of the Chiltern Alpine Garden Society group.  I've missed all their meetings in the last year but caught up with a couple of them recently and was tickled pink to receive this cutting.  It's fine outside in the summer but is not frost hardy so it's nestled in the greenhouse for the winter.  Tibouchina flowers late in the UK but is worth the wait as the Cadbury's Dairy Milk purple is so very striking.  Meanwhile, the leaves are also joyful. You won't be able to tell from this photo but they are amongst the softest leaf I have ever stroked.  They're softer than cashmere but not quite as soft as my dearly departed labrador's ears.
This seasonal diary is part of a weekly link-up of garden bloggers from around the world, called Six on Saturday.  For more information and links to other blogs crammed with gardening activity, check the blog of host Garden Ruminations.