Are you missing the Easter bonnet decorating competition this year?  I can't say I am – it's a positive of school closures due to Covid-19 lock-down.  Ironically though, this year, many of us have more time to spend gardening with children and making Easter decorations is a great way to get them outdoors and engaging with plants.
Here are some easy ideas for Easter decorations.  Getting outside, looking at flowers and plants and picking them to arrange is often a good entry point for gardening with children.
Easter Egg Tree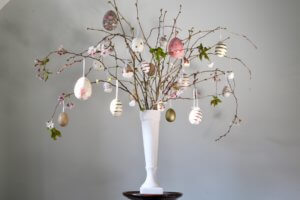 This is a very easy fun project that children can do with very little assistance.  I have used boughs collected from trees in my garden and have used twisted willow or cherry blossom boughs for this but in fact it works very well with simple sticks picked up from under trees in the park or woodland.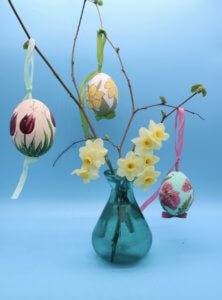 I have a collection of polystyrene eggs that I bring out every year, along with some beautifully painted eggs bought in Austria but I add to these with blown eggs the children have decorated themselves.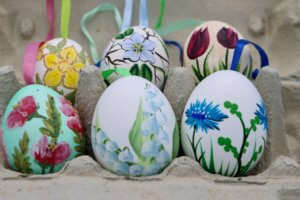 It's harder than you think to blow an egg.  You make a small hole in the top of the egg and a larger one in the base and blow through the top hole.  It does help if you stick a knitting needle or narrow pencil into the egg from the base to loosen the egg first.  Once you've got the egg out, gently wash the eggshell in soapy water.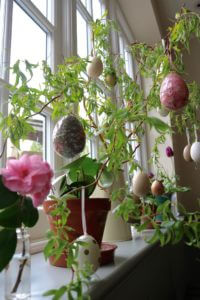 Then the children can decorate.  You can use any paint you have in the house, or even felt tip pens. Once decorated, the eggs need a hanging loop.  I've used string or ribbon to make a knotted loop.  A big knot helps as you can feed the loop up from the base of the egg and pull it through the smaller knot at the top where the knot gets stuck.
Tea cup decorations
For me, flower arranging is a natural extension of gardening and is something that children can easily engage with.  This is a great idea if you don't have many plants to pick in your garden as each tea cup doesn't need many stems to look good.    You could even collect some material when out for your once daily excercise out of the house.  Whilst on a walk and your could pick up sticks, dandelions, daisies or other pretty wild flowers to decorate your tea cups.
I have seen children told off by adults who say picking wild flowers is illegal.  It isn't. As long as you aren't picking protected species, uprooting the plants and are not picking flowers in a designated area, such as a conservation area or SSSI, you can pick flowers for non commercial use.  If in doubt don't pick.  More information on this is available on the website of the charity Plantlife by clicking here.
Scraping moss off a lawn or wall, picking grasses or finding attractive stones or bark pieces are other good ideas for interesting additions to the teacups.  If you don't want to use teacups you could use any small bowl, cup or vase.  My friend's daughter likes to add to her arrangements with little Lego people, imagining they are in a garden of their own.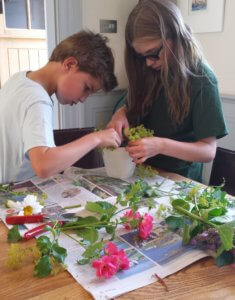 I have always used floral foam to anchor my teacup arrangements but it isn't necessary.  You don't need these arrangements to last long so another idea would be to fill your teacups with damp soil or even play sand.  Give your child a stick or a cocktail stick for small delicate stems. Use the sticks to make holes in the floral foam, soil or sand before poking the stems in.
If you want some other ideas for gardening with children, I have written a guide to seed sowing with your child.  Click here for more information.