Many of us have had holiday plans cancelled because of Covid.  My passion for tropical style plants has brought the holiday vibe to Buckinghamshire instead.
This week I'm sharing pictures from a new "exotic" border in my garden.  I've planted it alongside a recently refurbished patio.  Covid delayed laying the new patio slabs and subsequently the planting  Here are some interesting plants, some hardy, some not.  Despite being from many climates and continents, together they convey a sense of the exotic.
Dahlias and kniphofia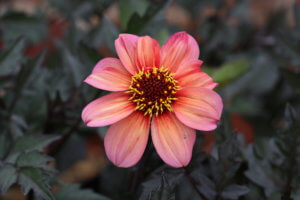 I've lost count of the number of times I've shared with you all a beautiful border duo I saw last year at the Savill Garden.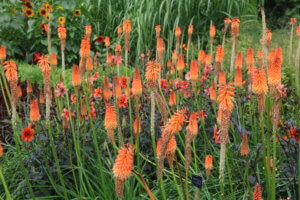 Many months ago, with the aim of recreating this border at home, I bought several of the Kniphofia 'Alcazar' plants in 9cm pots and some dormant tubers of Dahlia 'Bishop of Oxford' with dark foliage and pretty pinky orange single flower.  Dahlias originate from Mexico and Kniphofia from Africa – this border joins hands across the Atlantic.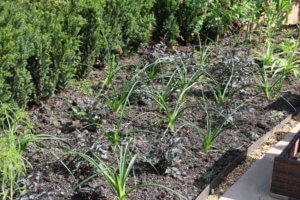 My recreation is looking a bit thin but everything is filling out slowly and there are a few flowers  on the dahlias.   I'm not certain I'll get flowers on the kniphofia this year but I'm hoping so.  Watch this space.
Banana Plantation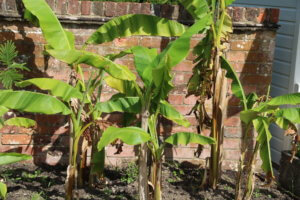 At the far end of the new border, alongside a newly painted white shed, I have congregated every last one of the musa basjoo plants in my possession.  Each one of these came from an original plant bought for £8 several years ago.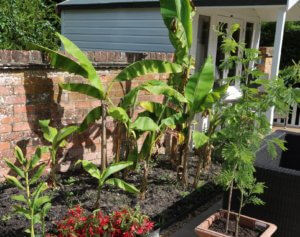 Over the years I've split off babies, protected larger stumps outdoors with fleece, and potted some up to protect in the greenhouse over winter.  It's Barbados in Buckinghamsire.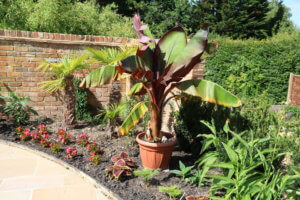 Then we zip across the Atlantic to Ethiopia, home of the red-leaved Abyssinian Banana – Ensete ventricosum.  Mine is looking statuesque in its pot, relocated from Covid corner (see blog article here).  The leaves are huge, an effect only possible if the plant can be protected over the winter.  Mine is cocooned in luxury in the small heated section of my greenhouse each winter, which is why I've kept it in a pot.
Exotic-looking bedding plants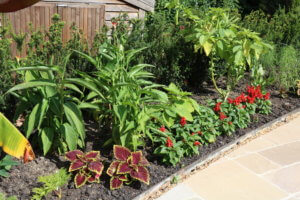 I had a few gaps in the border which I managed to fill with bedding plants.  These burgundy and lime green Coleus plants, a garden centre find are growing very well.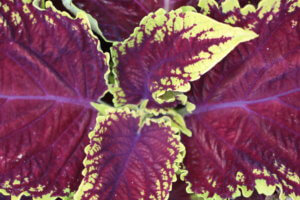 I also have this stunning pink Coleus and a plain lime green pair, the sole survivors of a mixed pack I grew from seed.  The rest of the seedlings were munched by a sneaky slug one evening.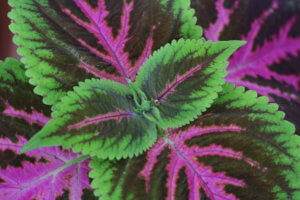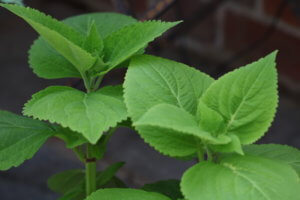 I managed also to buy some discounted Salvia and Impatiens plants, lacking attention outside a supermarket where I was queuing one day.  These plants are very common bedding plants here in the UK but their carnival colours look great in an exotic border.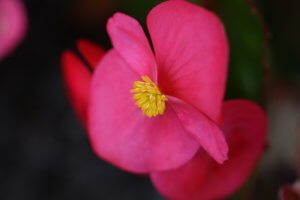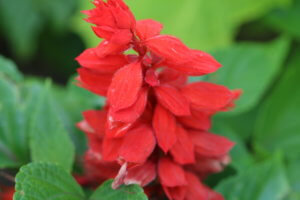 Eryngium agavifolium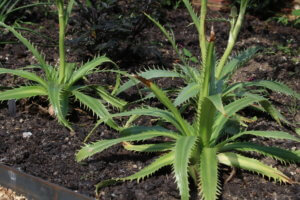 An impulse buy at a fabulous local garden centre called The Plant Specialist.  I went there looking for plants that would add to the exotic feel and these really stood out.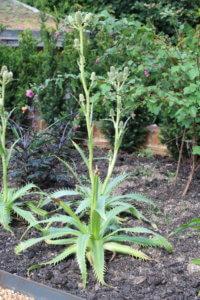 The flowers are unmistakably Eryngium, but the leaves have evil spines and as the name suggests are reminiscent of agaves.  I have read that this plant hails from Argentina.  It's a cracker but was a devil to plant, even when wearing gloves.
Filipendula 'Red Umbrellas'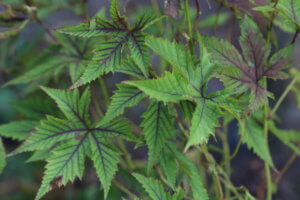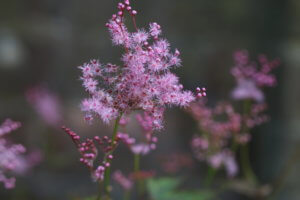 Another new plant to me, also from the Plant Specialist.  This has amazing red veined leaves shaped like the cross between an acer and a cannabis plant!  I was expecting the flowers to be red, as suggested by the name, but in fact they're frothy pink.  It's very pretty and likes the shade so it's tucked away in a corner where it doesn't get afternoon sun.
I've found a reference to its origins online which suggest this was a hybrid of two japanese filipendula varieties which was further selected in Holland.
Tetrapanax corner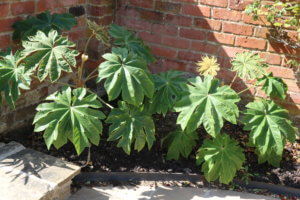 I've had this handsome pair of tetrapanax papyrifer in pots for a couple of years but they're really enjoying having their roots in the soil in this corner by the steps.  I've exchanged messages with Fred the French Gardener about these as he keeps his outside all winter.
I'm encouraged also by the fact that I have seen huge examples of these growing outdoors in Surrey at the Savill Garden and so am hoping they'll be hardy in Buckinghamshire too.  I chose this spot for them as it is fairly sheltered and can also be protected easily with fleece if I panic next winter.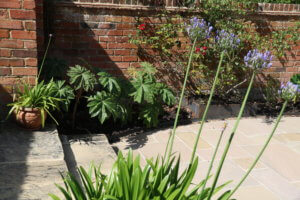 This whole area will hopefully come into its own in the next few years and provides an exciting opportunity for me to indulge my love of exotic plants.  It will have a very different feel from my other more traditional borders.  This year I was due to open my garden for Rennie Grove Hospice Care for whom I volunteer.  Instead my brother-in-law has pulled together a video – mostly filmed in May – as part of the Charity's virtual gardens online fundraiser.  If you're interested to see a few wider shots of my garden, then it can be viewed by clicking here.  Scroll down until you see my name – Katharine.
This seasonal diary is part of a weekly link-up of garden bloggers from around the world, called Six on Saturday.  For more information and links to other blogs crammed with gardening activity, check the blog of host The Propagator.