1. Cyclamen coum frozen in time and temperature
The 'Beast from the East' has this week unified the online gardening community of Great Britain in a shivering mass of frustrated gardeners.  We were on the cusp of bud burst and now everything has stopped, frozen in time and temperature. For once I don't feel behind everyone else.
I live on a hill in the Chilterns and know that our village is at least a degree or two colder than those nearby.  The car thermometer is a wonderful tool for tracking such things. Cyclamen coum splashed it's cerise brightness many days after I'd spotted it elsewhere.
I'm used to playing garden catch-up but going on social media in the last three weeks to promote my new blog has been most disconcerting.  Camellia in full bloom – where?  Daffodils looking glorious – really? Strelitzia reginae looking regal – Ok so that one's in South Africa.
Once the cold lifts, I know I'll go back to playing garden catch-up as we enter warp-speed spring – I doubt I'll be first with fritillaries, my bluebell pictures will lag behind, and some may scroll past my daffs as the first tulip pictures are posted.  I'll carry on regardless though as nothing gives me more joy than my garden, and the chance to capture it on film to share.
2. New leaf on a very old plant
I grow lots of houseplants – a great fix of indoor gardening.  This week saw the excitement of a new leaf on my Swiss Cheese plant (Monstera delciciosa). It has emerged from a cutting off a very old plant, grown initially by my mother.  Family fable alleges the plant was fed from blood extracted from my mum as part of experimental medical research at Oxford University, the excess returned to her for plant food. It moved with my parents from Oxford to Sheffield where it took up a quarter of our dining room.
The plant was given to my brother when my Mum died. He planted it in a bed in his conservatory where it grew yet more monstrous.  It was too large to move when he sold his house last autumn.  I dashed in and took cuttings and joy of joys, they look like they've all rooted.
Family history makes this baby leaf extremely precious to me and it's hard to believe the parent plant has journeyed over 40 years from Oxford, to Sheffield, to London and now to Buckinghamshire .
3. Flowering quince  – Chaenomeles Japonica
This plant is in my top ten garden must haves.  It performs well even on a north facing wall and only cherry blossom shrieks Japan louder.  I planted a line of 5 juvenile plants under a bay window four years ago and they now have merged to form a thick hedge.  It's thorny so I am careful when pruning.
Beautiful as the flowers are when open, I also love the bud stage with tight clusters festooning the bare branches in winter.  Before the cold hit last week, just a few of my flowers had opened. These look rather sad and crispy now.  I can't wait for the thaw for the rest of the buds to burst.
4. Hellebores in the home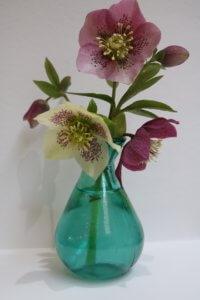 Have you noticed that hellebores are everywhere on instagram at the moment?  They are increasingly popular for flower arranging, often kept potted up and planted in mixed bowl arrangements.  They struggle to last three days as a cut flower so searing the stems in boiling water is a good idea.
I do still love to bring hellebores inside.  Their bashful faces point downwards and because of this it's sometimes difficult to appreciate their beauty in their garden. Pick a few and place on a high shelf and you'll be able to study their intricate markings and speckles.
They are so exotic it's hard to believe that they flower in our coldest months but tough as they are this week's snow has really knocked them for six.  I am glad that I brought a few indoors before the worst of the white stuff smothered them.
5. Tracks in the snow
We have read tales of burglars foiled by their tracks in the snow.  This week's snowfall has given me the perfect opportunity for some garden detective work of my own.  Last friday was my birthday and my family gave me a track cam with both infra-red and daylight modes.  First question was "Where are you going to put it Mummy?" and I admit I wasn't entirely sure where to start. The recent snowfall has given me clues.
Thursday night saw 3cm of fresh powdery snow.  Out I went first thing on Friday to see where animals had been. Most of the tracks were along the hedgelines or paths, and mostly squirrels and domestic cats – but I was looking in particular for tracks of muntjac deer.
In their first summer, the buds were munched off my 90 new roses all in one night.  A 4am stake-out revealed muntjac deer to be the culprit and there followed a feverish but rather heath robinson attempt to fence the area off with chicken wire.  It worked enough to deter the deer as it was no longer easy to saunter in and out of my rose garden restaurant.
My animal track detective work in the snow has revealed where at least one gap remains.  I don't think these are muntjac tracks – the snow was too deep to reveal enough clues – but I definitely need to beef up my defences to foil them this summer. Oh and the trailcam will be deployed for video evidence if necessary.
6. Sweet peas for the show bench
Tuesday felt like groundhog day as I planted my sweet pea seeds for the second time.  I'd done this last October in a foolish forray into 'getting ahead of myself'.  My greenhouse has been demolished so I tucked them up in some cold frames and waited for them to geminate.  They duly did and I thought wistfully of that delicious sweet pea scent come summer.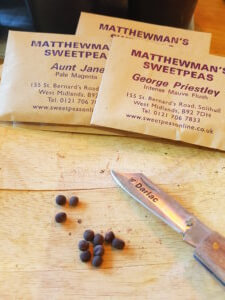 On checking the next morning I found every one had been dug up and eaten.  The culprit was most likely a mouse and I was miffed as I had bought some lovely seed from Matthewman's Sweet Peas, who won their 13th consecutive Gold Medal at Chelsea last year.  I carefully chose the varieties with a view to exhibiting at my local show in July and maybe emulating their success.  It's nice to dream anyway.
Seed reordered, I set about chipping the outer seed coat with a sharp knife to aid germination.  Matthewman's recommend this method over soaking but it's a bit tricky to keep each seed still and a wooden chopping board is useful.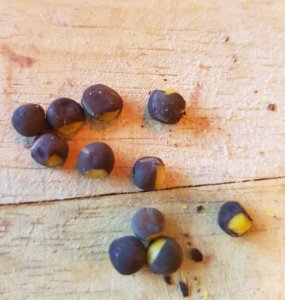 Planting and labelling was easy as I'd kept all the pots still labelled from the autumn.  Even if it hadn't been Siberian temperatures this week, I'd not have risked rodent attack in the coldframe.  They're on a cool windowsill and will remain until they're no longer susceptible to mouse munchies.