We'll be visiting the four corner of my garden this week to see how things have survived winter and how others are lighting up spring.
Tetrapanax corner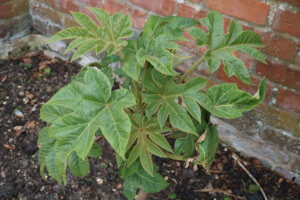 The paper rice plants that I planted in this wall corner are bursting with healthy green leaves.  I decided to cover these with fleece when the temperatures plummeted in February.  In theory they would have survived the frost but I doubt they'd be looking like these now if left uncovered.
This is how they looked last summer and I'm expecting similar impact this year in this exotic garden area.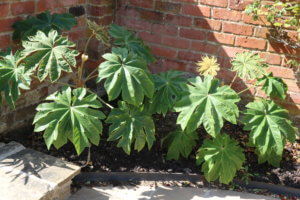 Grevillea
Planted further along the same wall is this lovely Grevillea rosmarinifolia.  It has pretty needle like leaves, resembling rosemary – hence the name.  The flowers have unusual deep coral red flowers.   It seems completely untroubled by any weather thrown at it, be it cold, hot, dry or damp.

I am so taken with it that I bought a second variety recently.  This one is Grevillea juniperina 'Pink Lady'  supposedly with juniper-like leaves.  I love the flowers on this one – the sepal clusters are two-toned ivory and pink.


Pond Garden

Here's a nice view of the pond garden where tulips have brightened the beds this spring and where the tall alliums are preparing to take over.  This used to be planted up as a herb garden and the chives spreading into the path probably need addressing.
Did I plant enough tulips?  I don't think so.  Next autumn folks, remember to decide how many tulips to order and then double or even triple that number.
Yellow Tulips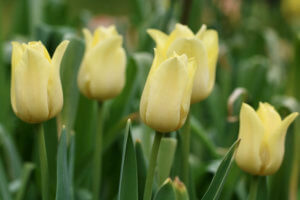 Most of the tulips in the pond garden area are yellow, with a really pretty one called 'World Friendship' dominating.  I know many people find yellow difficult to accommodate in a garden but to me it's the colour of spring – think primroses and cowslips.  This gorgeous silky flower is a lovely pastel yellow, the colour of the centre of a strawberry mivvi ice cream.
Anemone sylvestris 'Snow White'

We're up at the rockery now so that I can show you this little beauty.  She opens out in the sunshine but I caught her in shade so I feel like I'm not doing her justice.   She's only 20cm tall.
Alpine Trough

This trough is looking so lovely right now.  There's a sweet spot in the lifetime of a planting scheme when everything is perfectly proportioned and for this tough it's right now.  The bright pink phlox and white mossy saxifrage at the back are nudging shoulders but not yet in a full-on argy bargy for space.  The succulents are spreading gently in their own meandering way.
This seasonal diary is part of a weekly link-up of garden bloggers from around the world, called Six on Saturday.  For more information and links to other blogs crammed with gardening activity, check the blog of host The Propagator.