New Year and the garden never sleeps.  Snowdrops are popping up but they've been beaten to the limelight by winter flowering shrubs.  Entertainers of the winter garden, these shrubs need to shout their presence to winter pollinators.  From funky flowered witch hazel and posy-like viburnum, to sweet scented mahonia and sarcococca, the show put on by these shrubs cheers the winter gloom.
Berries and hips are still adding colour too, I wrote about some of these before Christmas and if interested you can read it here.
Mahonia x media
The glossy but spiky leaves of mahonia have never been overly attractive to me and for many months of the year it lurks on my boundary fence looking aggressive and menacing.  So sharp are the leaf serrations that I have never had the intention of going anywhere near them with my secateurs.   This is all to the better.  My Mahonia has grown into a majestic tall plant and one that more than earns its place in the garden, especially when in full flower.  The yellow is striking and equally jolly on a sunny or overcast day. Best of all is the way the plant buzzes with dozens of opportunistic honey bees on a warm January day.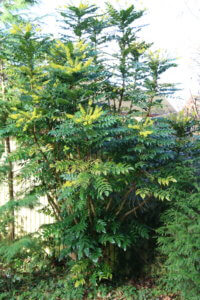 Hamamelis x intermedia
Witch hazel is not a cheap plant but I'm thankful I took the plunge and invested.  No winter shrub is more bewitching.  This first one, Hamamelis x intermedia 'Diane'  is a red variety which burns fierily in winter sun.  I always think the flowers look like threadbare cheerleader pom-poms.  The tape-like structures are bizarre adornments gathered around the tiny flowers.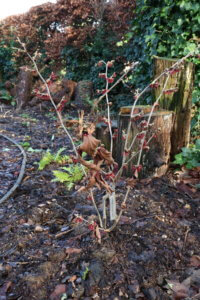 One of the reasons this plant is expensive is that it is very slow growing.  I only planted this one in my woodland area last year and it'll take time to fill its space.  But just imagine this corner by the path filled with an ember-like glow.  In the mean-time I'm happy to get close-up with my camera.
I can't resist featuring a second witch hazel.  This one, Hamamelis intermedia x 'Jelena' is a fabulous orange variety with longer tassels in tangerine hues.  The length of the tassels mean it slightly edges 'Diane' on impact, despite the lower intensity colouring.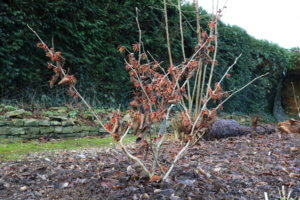 These two shrubs I've planted fairly close together so it'll be interesting to see how quickly they grow and whether my preference for 'Jelena' endures.  I'll certainly be visiting them regularly to see how they look in different lights.
Viburnum x bodnantense
The first of two Virburnums that I've chosen to feature.  This shrub usually grows to have a well proportioned woody structure, which is just as well as it is a deciduous variety so needs an attractive skeleton.  The powder pink flowers are clustered in bridesmaid posy groups dotted across the branches.  They're sweet-smelling too.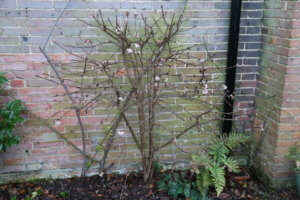 My plant has grown slowly over the last 4 years and doesn't have as many flowers as some I've seen in sunnier open spots.  Still it's doing the job I wanted it to do and adding a bit of interest on this blank side wall of the house.
Viburnum tinus
I'd wager that there isn't a garden centre in the land that doesn't stock this plant and it's to be seen in many a municipal planting scheme.  I'm quick to overlook it in favour of more showy shrubs yet just look at this pretty flower cluster.  I think it's delightful up close and as the light fades in the winter garden it competes with the snowdrops to emit white light from the gloom.
This is an evergreen Viburnum and is therefore useful border background or to cover an expanse of wall or shrub.
Sarcococca confusa – Sweet Box
Hopefully you can just see the sweet box plant tucked behind this urn.  Its aim is to fill a dark corner and it does this admirably.  A shrub with glossy leaves, this plant is unremarkable from a distance but it has an unbeatable scent.  If, when walking down a street, you get a whiff of a sweet scent and stop to look around to see what it is, it could well be one of these.   You'd need to look hard to see the flowers as they are tiny and hang on the underside of the branches

Paperbush plant – Edgeworthia chrysantha
This shrub cannot be left off a list of winter flowering shrubs and whilst the flowers of mine aren't yet open, they will be soon.  I love the silken sheen of the unopened buds.  They look like the bobbled tassels at the base of silk curtains.
Another fairly expensive shrub, It's well worth saving up for.  The leaves in summer are attractive and held on the plant until late November.  When they fall the structure of the plant becomes clear.
The flowers, when open, are a mixture of creamy white and yellow and are delicately scented.
This seasonal diary is part of a weekly link-up of garden bloggers from around the world, called Six on Saturday.  For more information and links to other blogs crammed with gardening activity, check the blog of host The Propagator.