Late November and December offer very little in terms of blooms and colour so festivals built around hope and religion, lights and community are much needed.  The positioning of Christmas in the calendar makes so much sense.
In January the first of the bulbs will begin to appear in my garden – some early flowering snowdrop varieties will brighten the ground with thier bright white light.  Pretty bulbs will continue popping up throughout February and March meaning that whatever the weather there's still some colour and optimism to be found.
Not so November.  Yet look very carefully and there's still colour to be found, mainly in the form of berries and hips.  Here are some of the best from my garden this week.
The Chestnut Holly – Ilex koeheneana
This is a very handsome female holly.  I have two trees on the boundary with a neighbour and, being evergreen, they are very useful for screening.  The serrated edged leaves do look very much in shape like those of the sweet chestnut tree, hence the name.
This tree is smothered in white flowers in spring and then in glorious red berries in time for Christmas.
Ilex aquifolium
This is the common holly, and only the female form produces berries although male and female varieties both produce white flowers.
As a child my mother would send me out into the garden to pick sprigs to decorate the house for Christmas.  My brief was to pick as many two leaved sprigs with berries attached to place on top of pictures in the sitting room and hallway.  Before twelfth night we would take them down again and throw them in the fire where the now drying leaves would crackle like fireworks.
Sweet box – sarcococca confusa
Unlike the pillar-box red holly berries, sarcococca are purply red and darken with age.  I bought a sarcococca bush a few years ago after hearing Chris Beardshaw enthuse about it on Gardeners' Question Time.  The question was about plants for winter scent and there is little doubt that this plant is incredible at lacing the air with sweet perfume on a frosty day.  I'm not massively keen on it's shape though and have little doubt that my ruthless side would have seen it composted were it not for it's fragrance.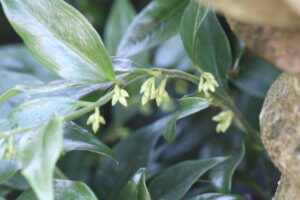 Here you can see the white flowers beginning to form elsewhere on the bush, whilst the berries still cling on.
Cotoneaster horizontalis
This is a brilliant plant, one of my absolute favourites.  As its name suggests, it has a habit of growing sideways, which is really useful for covering a wall or fence.  this particular one has grown a bit rampant as it's in a shady spot and is leaving the wall in search of light.  It maybe needs a prune but this is something I find difficult as it seems wrong to prune back its long, graceful, reaching arms.
Each one of these fabulous berries was produced from a diminutive pink rosebud shaped flower which the bees are mad about.  Stand by this plant in summer and all you can hear is buzzing.  Red berries that the blackbirds seem to enjoy and tiny reddening leaves mean this shrub is on fire each autumn.
Cotoneaster cornubia
Another Cotoneaster but one with a very different habit.  This one has grown into a huge graceful tree, with boughs that arch down from this a boundary path towards the lawn below.  Festooned in bright red berries that feed many birds until the they're all gone by February, this is one of the most important trees in my garden for structure and interest.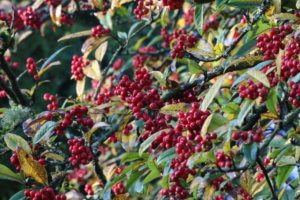 Rose hip 
There are a few rosehips worth featuring but I choose this one from an unknown hybrid tea rose.  The hip is immature and looks very pretty with this raindrop clinging on beneath.  I like rosy apple colouring and patterning.
This seasonal diary is part of a weekly link-up of garden bloggers from around the world, called Six on Saturday.  For more information and links to other blogs crammed with gardening activity, check the blog of host The Propagator.