Pineapple potential
This year I ordered a Christmas box from a local greengrocers to be delivered by my milkman.  The large cardboard box contained no plastic tubs or bags and supplied everything I needed for Christmas lunch.  Along with the sprouts, spuds, carrots, parsnips I discovered some nice surprises, including two lusciously ripe pineapples.  Eating pineapple makes me feel peculiar but the children and their cousins loved them.
A friend of mine has grown tasty edible pineapples on his kitchen table.  Rather than see the Christmas pineapple tops disappear in the compost heap I've decided I'll give it a go.  I trimmed off the fleshy fruit from around the base of the spiky stem and then suspended the tops over jam jars filled with water.  It doesn't seem to have mattered that they are submerged.  The water goes a bit murky so every now and again I change it and rinse out the jars.  Just three weeks in and small white roots are already starting to appear from the base of the spiky stem.  Once they've grown a bit more I'll pot them up into compost.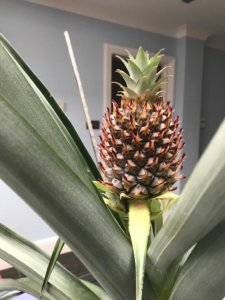 Here's a picture of the splendid pineapple grown by my friend.  I'll be delighted if mine are as successful.
Date palm potential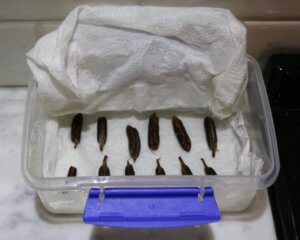 Also in the Christmas veg box were some luscious Medjool dates.  My husband saved the stones from his and has challenged me to grow some palm trees from them.  A quick look online gave me the methodology of soaking the stones for a week (regularly changing the water) and then sandwiching them between damp kitchen roll in a box or bag in a warm place.  Here they are unwrapped but the paper covers them and then the plastic box lid is sealed.
They could take a few weeks to sprouts but I'll check them regularly and really hope I'll have some baby palm trees one day.
A flurry of snowdrops
Regular readers of my blog will know that I love snowdrops and that I was encouraged into the gentle hobby of galanthophilia by a late friend who lived nearby and who was also a keen collector.  Here's a picture of my little collection of specials in sand plunges, which I created from some old recycled plastic cold frames.  The snowdrops flowering in there are a few of the less common varieties.  They need a couple more days for them to open enough to take good pictures of the subtle differences in flower formation.  Expect a snowdrop special on this blog in a week or two.
Some of my special snowdrops have already finished flowering.  Early varieties flower before Christmas, including the christmassy named 'Three Ships'.  I've written about early varieties for my garden diary on the Alpine Garden Society website so if you want to see pictures of 'Three Ships', where the petals look like the billowing sails of ships sailing downwind click here.
Sweet peas to look forward to
A poor summer for me would be one in which I didn't grow any sweet peas.  My passion for these scented beauties grows by the year, fuelled by avid online research into new varieties to grow and the pressure to retain the sweet pea cup awarded at my local show.
This week I happened on the website of Roger Parsons sweet peas.  Roger holds the National Collection of species sweet peas, is Chairperson of the National Sweet Pea Society and has a super selection of seeds for sale on his website.  As well as a pretty flaked (speckled) variety called Margaret Gawler I have bought seeds of a mixed selection of annual species sweet peas.  These are shorter lived than some of the other annual sweet pea varieties so I have bought two packs to sow in succession.  I have also bought seeds of a striking perennial variety called Lathyrus davidii.  It is two-toned yellow and orange and should make an interesting climber in my garden.
Choosing the varieties to grow isn't easy so I've written a blog post on the different varieties on offer, featuring pictures of my favourites from last year.  You can read the article here.
Greenhouse Tidy-up
I'm ashamed to admit that before, during and after Christmas, as the house was filled with visitors, I didn't go regularly to my greenhouse.  Some days the vents were left closed when fresh air was probably needed and I wasn't that careful in assessing watering requirements.  I therefore went with trepidation into the greenhouse a week ago to check that everything was OK, thoroughly expecting some casualties.
Four enjoyable hours were spent in there tidying, pruning off dying leaves, repotting pot-bound plants and taking the odd cutting.  Amazingly I took out a wheelbarrow full of leaves and spent compost and there was just one casualty – my papaya carica.  It had rotted at the base, probably overwatered.  The plant hadn't really ever been particularly healthy and suffered from disease last summer.  I was hoping to coax it into health next summer but it is no more.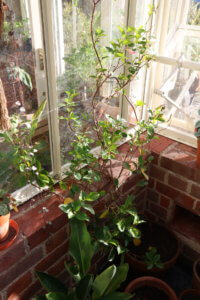 At least this mandevilla is looking bonny.  It took I while to take away the brown leaves that had fallen from it and accumulated on the wall and round the base.
Horticultural Society inheritance
I've become chairperson of my local horticultural society, a role I take on with a mixture of excitement and trepidation.
This plastic box contains historical papers and when I dipped in briefly yesterday I discovered minute books from the 1930s, pictured below.  Beautifully handwritten, the books contain a treasure trove of information about the Society and it brought home to me how long clubs like this have been enriching the lives of hobby gardeners like me.  Times have changed though and one of my roles will be to develop a web presence.  Membership numbers are healthy but I think I am the youngest member so we are keen to think about ideas to welcome new members.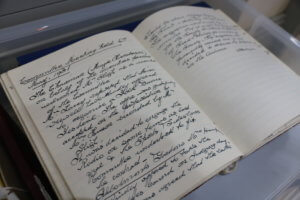 This seasonal diary is part of a weekly link-up of garden bloggers from around the world, called Six on Saturday.  For more information and links to other blogs crammed with gardening activity, check the blog of host The Propagator.