I'm getting the garden ready for winter. They'll still be lots to do but I'm ready for the sometimes grey, brown, cold and damp days ahead.  I like to share pretty pictures with you all and at the moment that's hard. I'm hoping the accompanying stories are interesting though.
New bird feeding station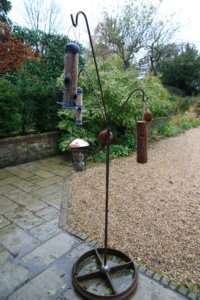 This was an early Christmas present for the family.  We wanted to get the birds used to it before the really cold weather kicks in.  Sited within site of the kitchen window we are able to view the birds breakfasting on the vast array of seeds, nuts and fats on offer at the birdy buffet. So far we've had a variety of tits and some rather territorial robins that scare the tits away.
As we have so many squirrels in the garden we wanted to be have a structure that was hard to climb from which we could hand feeders with lots of easy perches for the birds.  I found this model on an online search.  It was made by Ed from Jardinique Garden Antiques using metal rods secured into a heavy metal base formed from a metal plough wheel.  It's robust and looks great.
Visiting Jardinique to collect the feeder I stepped into a wonderland of beautiful garden antiques, sculptures and lovely stone troughs.  Luckily the bird table was the only thing on my shopping list otherwise I'd have been sorely tempted by what was on offer.
Old bird table
I shared a picture of this on one of my very early Six on Saturday diaries.  Made by my daughter for her GCSE Design and Technology, it was designed to be squirrel proof, with attractive succulents growing on the roof.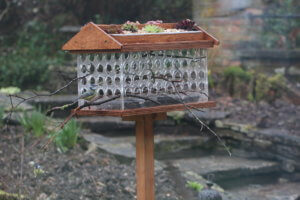 The holes in the perspex sides are the same diameter as blue tit nesting boxes.  Here's a picture of a blue tit perching ready to go in.  Look carefully on this next picture and you'll see it inside, safe from marauding squirrels.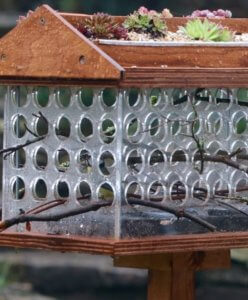 There need to be one or two slightly larger holes for the bigger birds such as great tits and robins but every prototype needs adjustment.  After almost two years of use the bird table is getting slightly rickety and needs a bit of TLC but was a winner with the blue tits and earned an A grade.
Dahlias
I don't usually dig up my dahlias as they seem to come back well year after year when left in the ground with a mulch on top.  This year I did dig some of the up – mainly because I fancy a change-around of planting in the New Pond Garden.  What the planting will be I don't know, but by digging the dahlias I have forced myself to make some decisions over the winter or face a barren pond garden next year.
Digging up dahlias is a bit of a faff.  I washed the soil off the tuburs, let them dry out indoors for a couple of days and then packed them into tubs and boxes of dryish compost in a shed.
My old shed and garage were damp and cold and full of mice so some of the tuburs would succomb to rot and others would be eaten by mice.  My solution was to hang them from onion sacks which worked but was also fiddly.  I'm certainly grateful that my new shed is dry and vermin free.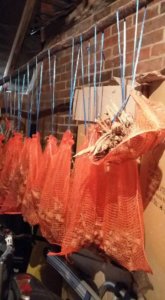 Alpine Garden Society Seed exchange
Many of you will know that I'm a diarist for the Alpine Garden Society website and a member.  Membership entitles you to 23 packets of seed for £10.  I wrote for them about the many lovely plants that I'd grown from the seed exchange last year which can be read here.
I've been anticipating the release of the 2019 seed list and yesterday it popped through my door.  The site goes live just after midnight today so I'm sure keen collectors will have been lined up, fingers poised over the keyboard for the rarer seed, some of which is wild collected on plant expeditions.
My task this weekend is to have a good read and make my choices.  This will be difficult as there are many hundreds to choose from and not only alpines.  As a beginner alpine grower I'm yet to learn how to spot the rarer hen's teeth varieties but I will be on the look-out for easy to grow, jolly plants for my new rockery.
Nectarine  'LordNapier'
Back in the spring I shared a picture of some lovely nectarine blossom on a newly planted tree.  Sad tidings are that the tree succumbed to peach leaf curl and the fruit didn't set.  The good news is that the tree has grown well and with further shaping should produce a lovely fan shape against this south facing wall.
I need to research protecting it better from frost and leaf curl virus.  It should be easy to secure fleece to the top of the wall and drape it over the tree to protect blossom from late frosts and I've read that covering with polythene will prevent peach leaf curl.
Meanwhile, here's a reminder of how beautiful the blossom was.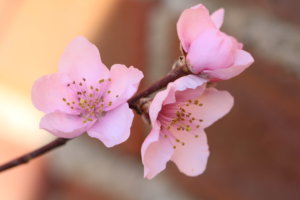 Celeriac 'Asterix'
I haven't featured many veggies in my weekly diaries this year – mainly because I haven't grown many.  However, I did plant a row of celeriac, which are looking mighty fine right now.
This is a variety called Asterix, which I chose as I love the cartoon character.  Just like the Gaulish warrior, this celeriac has grown strong with just an occasional drop of magic potion in the form of seaweed extract.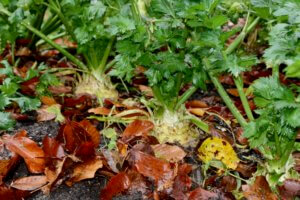 Celeriac is very easy and cheap to grow from seed and tastes delicious mashed on it's own or combined with mashed potato.  It's not that cheap to buy in the shops either and yet this row should see us through the winter.
This seasonal diary is part of a weekly link-up of garden bloggers from around the world, called Six on Saturday.  For more information and links to other blogs crammed with gardening activity, check the blog of host The Propagator.