The Woodland Setting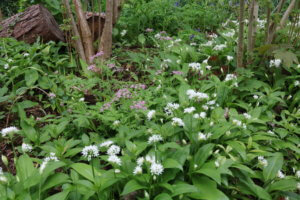 This part of the garden was reclaimed two years ago when we built a meandering woodland path through a shady nettle patch beneath some sycamores and a tall larch.  Some multi-stemmed hazels were retained whilst some twisted neglected hedging was removed.
Wild garlic had spread everywhere but selected clearance provided opportunities to add some lovely shade loving perennials.  Many of the choices were inspired by reading Beth Chatto's Woodland Garden book, which lists great plants for a shady environment.  Best of all the book is organised seasonally to help the reader produce year-round interest.
Here are some of the combinations that I feel are working well.
Tiarella and Wild Garlic
This combination is as frothy as a cappucino.  Wild garlic is everywhere in this woodland area and whilst I dug lots out here, I left a bit behind to see how it would look with this Tiarella cordifolia.  I'm very happy with it.
Hosta and Ferns
Lush green combined with lush green – a traditional pairing that can't go wrong.  These hostas are the offspring of an original plant that I bought ten years ago.  Grown on and split a few times little clumps add emerald splashes.  I think the variety is called 'Purple Heart' and it has burgundy stems.
In the background are Shuttlecock Ferns – matteuchia struthiopteris which are lovely at any time of year but especially in spring when they first emerge from the soil.  I may be imagining it but I think there are more of these dotted about than I remember planting.  I believe they may be spreading.
Geranium phaeum and pulmonaria
The geraniums were last year's purchase, the pulmonaria plants a gift from a friend but they look lovely jostled together with yet more wild garlic in the background.
I love the deep purple geranium phaeum.  The purple is a bit drowned out by the busy planting in this area but rewards you on closer inspection with these delicate flowers.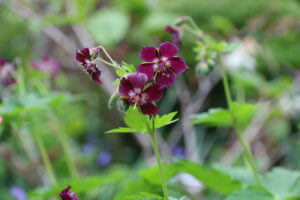 Meanwhile the pulmonaria are of unknown name.  A quick internet search revealed it is probably pulmonaria rubra.  The bees love it.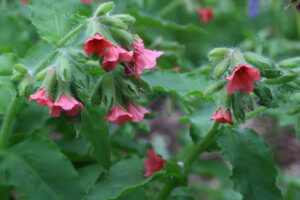 Soloman's Seal and Corydalis
I planted lots of Soloman's Seal, polygonatum x hybridum, last year and they add stylish arches all around this woodland bed.  Because they are green and pale cream, they can take a while for the eye to pick them out.  Yet in this little section a lovely bushy backdrop is provided by this corydalis temulifolia 'Chocolate Stars' – another gift from a friend.  The bronzed foliage of the corydalis is pretty, as are the mauve flowers.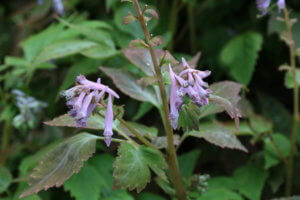 Wild Garlic and Pink Cow Parsley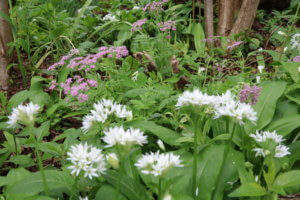 The Pink Cow Parsley – Pimpinella rosea has fern-like flowers and frothy pink flowers.  It looks very pretty next to the wild garlic but I would like it to be just a bit taller.  It's only in its second year so maybe by next year it will have strengthened a bit to compete with its allium neighbour.
This seasonal diary is part of a weekly link-up of garden bloggers from around the world, called Six on Saturday.  For more information and links to other blogs crammed with gardening activity, check the blog of host The Propagator.