Corona is also a botanical term – the proper name for the trumpet in a daffodil – although coronas are present in many flowers.  At daffodil flowering time the word is now topical in more ways than one.  You'll see I've used the word corona several times as a sort of antidote to the troubling times ahead.
Yellow is a therapeutic jolly colour so I'm sharing six yellow flowers in the garden this week, many sporting a pretty corona rather than a deadly one.
Narcissus cyclamineus and N. cyclamineus 'Englander'
This is a species daffodil, the flowers being held on slender stems only 15-20cm tall.  The petals are reflexed 180 degrees to the corona so that the flower has the appearance of a rocket shooting through space, or even the picture of Halley's comet as depicted in the Bayeux tapestry.  Others have described it as looking like it's in a wind tunnel.  I have just three little bulbs growing in a pot but after flowering I will release them into the woodland area.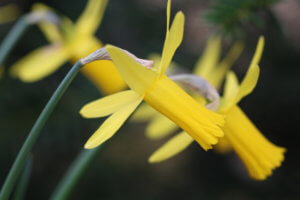 N. Cyclamineus 'Englander' is a hybrid that has longer stockier stems and larger flowers than the species.  Whilst the petals are reflexed, it looks more like it's having a gentle blow dry than a full turbo treatment.
Narcissus bulbocodium – Hoop Petticoat narcissus
My love affair continues with this crazy-looking miniature narcissus with stunted sepals and a gramaphone horn shaped corona.  I have several planted in the lawn with lots of leaves and so far no flowers.  I'm worried they will be blind this year.  However, this little one in a pot is bucking the trend.
I've written about my inspiration for planting these here.
Narcissus bulbocodium 'White Petticoat'
This is a hybrid of the species bulbocodim and is a real delight.  Here planted in a pot, despite its name it is actually the palest of yellows, the glowing yellow stamens within.
Cornonilla valentina subsp. glauca 'Citrina'

Coronilla is a latin term – a diminutive the word cornona.  It means little garland and often refers to a garlanding shape.  The individual pea shaped flowers on this shrub are strung together to give the appearance of a circlet headpiece.
This is a fabulous shrub with pale yellow clusters of pea-like flowers with a delightful sweet scent.  Best of all this has been flowering since before Christmas and still looks fresh as a daisy.
Last week I write about meeting Nick Bailey and I note that this shrub is featured in his book '365 days of colour', where he describes it as sometimes reblooming in summer giving 10 months of flowering interest in the garden.
Primula vulgaris
A flower without a corona but a joy to behold nonetheless.  These have gone mad in the garden this year, springing up everywhere and flowering exuberantly. A native species, the flowers are such a pretty pale yellow.
I use the term 'primrose yellow' frequently when describing flowers in the garden.  I can't think of any other way to evoke this hue.  Simple and beautiful.
Narcissus 'Tete a Tete'
You can't fault this small narcissus.  It comes back reliably year after year after year and is a proper golden yellow.  Small enough to go in pots or garden borders it is really versatile.
This week, as social distancing looms, the phrase "tete a tete" no longer seems cute – a reminder of the many things we will lose over the coming weeks. Yet the flower – pure joy!
This seasonal diary is part of a weekly link-up of garden bloggers from around the world, called Six on Saturday.  For more information and links to other blogs crammed with gardening activity, check the blog of host The Propagator.