I love planting up an alpine trough – it's a chance to be creative in a small space and will provide a thing of beauty for a number of years.  Saxifrages are small but stunningly beautiful plants and you can fit many pretty plants in a small space.
Planting an alpine trough is easy as long as you remember to think about the most important factor when growing alpines – drainage.  Prepare yourself for lots of pictures of gravel.
An old enamelled sink
This sink was a swapsie from my friend.  I gave her the brugmansia that had outgrown my greenhouse and she arrived with this sink.  It's a lovely warm brown colour and looks great on this wall.  It is shallow though – which was troubling me.
Plants for a shallow trough
Some troughs are deep, proper washing up sinks, but this one is lacking in depth.  Falling in love with my saxifraga porophylla 'Karel Capek', which I featured last week, provided the ideal solution as they aren't particularly deep rooted.
So I went all in and spent birthday money on a consignment of a dozen varieties from Pottertons nursery.  They've got great names like 'Dr Watson' 'Salome' and 'Franz Liszt'.  Buying mail-order from a reputable supplier is low risk and these arrived beautifully packed in newspaper, a little paper collar round each tiny plant.  Not a stem was broken nor a leaf loosened.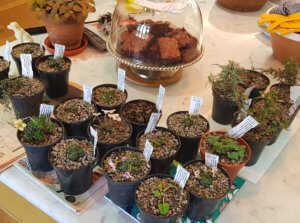 Good drainage
Despite the lack of depth in the trough I still decided to put a layer of gravel at the bottom, just to allow water to drain away from the roots easily.  I also put some props under the sink to make the left side higher so that the water would drain towards the plug hole.  It'll help drainage just that little bit more.
Stones
I thought about arranging these little saxifrages in a grid but told myself off for my lack of ambition and decided to create a more random attractive display.  These rocks were part of a little collection I keep behind the shed, mostly parts of an old wall that was taken down.   Whilst they were awkward shapes I had a go at making them look sort of natural.
Arranging the plants
The fun bit.  I didn't have a plan I just dotted the plants about in their pots and shuffled them around a bit until they looked fine.  I then knocked them out of their pots.  The roots were indeed shallow so I sometimes had to be careful to stand the plants up at their final planting level.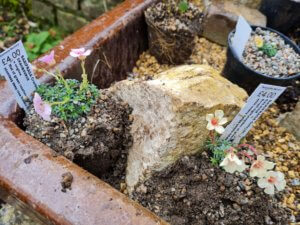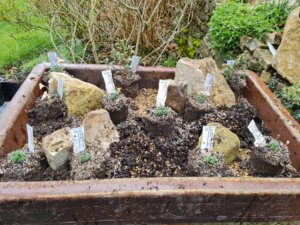 I then filled in the spaces between with a mix of peat free compost and lots and lots of grit.  The classic mix for a trough would be one part John Innes No.1 compost to one part grit but I didn't have any John Innes and it isn't usually peat free.  These saxifrage plants were already growing in a good compost with plenty of sand mixed through.  I didn't have much sand to hand but I'm hoping the grit will be enough.
Top dressing
The grit top dressing looks lovely, sets the plants off well and keeps the little saxifrages nice and dry round the collar.  There's more gravel than green right now but each plant should double in size in a year.  Like a new school blazer they've got plenty of growing room.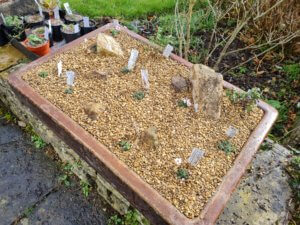 This seasonal diary is part of a weekly link-up of garden bloggers from around the world, called Six on Saturday.  For more information and links to other blogs crammed with gardening activity, check the blog of host The Propagator.